Latest News & Events
Today's Positive Thought! Plus, LIVE at 8:30am: Menorah's Online Minyan (link inside)
Rabbi Eliot H. Pearlson                                            



Dear Menorah Family,

The great rabbis of the Talmud would frequently start the day's study sessions with some humor. I'm not a great rabbi but...

David Kilimnick, a Jerusalem comedian notes:

Did you hear? The Tel Aviv Airport Terminal was totally empty yesterday..."




"People Thought It Was an Attack! When we saw no tourists, our first thought was that Israel was under attack. But CNN and BBC said nothing bad about Israel so we were confused.

We were happy to find out Israel was not under attack and the lack of tourists had nothing to do with anti-Semitism; unless the person who first contracted the virus in China was Jewish. Then we'd all be in trouble.

Certain Parts of Israel Are More Packed Than Ever:
Israelis aren't leaving. I didn't realize how much vacationing Israelis do. The country is packed but that's because it's filled with Israelis who were supposed to be in Budapest right now.

As difficult as the Coronavirus is, there's a bright side in Israel -- at least there won't be another election taking place anytime soon. Right?

Now for some good news!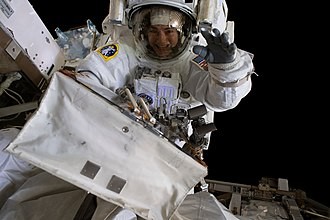 Jewish Astronaut SeesTel Aviv From Space and Sends Blessings:
Astronaut Jessica Meir, whose father fought in the 1948 War of  Independence, tweets Israel photo from space and sends her blessing:

"Gazing down at the city in which my father was raised," Meir wrote, referring to the city of Tel Aviv, "I take to heart one of his most uttered expressions, 'This too shall pass.' Wise words to remember, in both good times and bad."
"Good night Tel Aviv, Israel!" Meir concluded.


Quick D'var Torah:
On yesterday's Daf Yomi (the daily Talmud story page) I marveled at the correlation of the statement of Rabbi Shimon ben Elazar and our situation today with COVID-19. He taught: "One may not betroth children on Shabbat, nor enter into an agreement to teach him to read a sacred book or to teach him a trade, and one may not comfort mourners, and one may not visit the sick on Shabbat — this is the statement of Beit Shammai. And Beit Hillel  permit performing all of these activities on Shabbat".

Rashi explains Shammai's reasoning: when a person comforts the sick or a mourner who is sad, the comforter is saddened themself. Beit Shammai, wanting to keep Shabbat as a day of joy, forbids these difficult activities.

Beit Hillel permits people to visit the sick and comfort mourners on Shabbat because WE PUT PEOPLE FIRST, EVEN AHEAD OF SHABBAT!

While it would be nice to live in a world in which sadness never intersected with Shabbat, and while we try to experience Shabbat as a taste of such a world, a dose of reality is also needed.

The world we live in has pain and sorrow, fear, sickness and death – and the do not stop for Shabbat.

What it means to be a Jew is to recognize that sometimes we have to set aside Shabbat in order to be present for those who suffer.

Life frequently takes precedent over other Jewish laws.

May we dream of Shabbatot that are filled with nothing but joy and may we have the compassion to recognize when it is time to relinquish our own joy for the sake of comforting others.

With all my love,


Rabbi Eliot



P.S.: Don't forget:

Join Menorah's Online Minyan (via Zoom) by clicking here

To join via audio only:
dial 1-253-215-8782 or 1-301-715-8592
​​​​​​​enter 649 646 6938 followed by # when prompted for your meeting ID
Temple Menorah
620 75th Street
Miami Beach, FL 33141
info@menorahmail.org
Sat, April 4 2020
10 Nisan 5780
Today's Calendar
JCS Shabbat
Shacharit

: 9:00a
Havdalah

: 8:29p
---
Friday Night
Mincha/Maariv

: 6:00p
Candle Lighting

: 7:24p
Shabbat Day
Shacharit

: 9:00a
Havdalah

: 8:32p
Upcoming Programs & Events
---
This week's Torah portion is

Parshat Tzav
Candle Lighting
Havdalah
Motzei Shabbat, Apr 4, 8:29p
Shabbat HaGadol
View Calendar
Sat, April 4 2020 10 Nisan 5780